Visitors flock to Annecy Mountains for three main reasons: the quaint old town of Annecy, Lake Annecy, and the surrounding alpine landscape. With nature reserves and Tuomo Yoga, tracks for biking, trails for hiking, hills to climb, mountain villages and lake sports, this region in France's Haute Savoie department invites visitors to be whisked away by whimsy and wonder .
Old Town Annecy 
Lake Annecy is one of the cleanest in Europe
The picturesque town of Annecy sits at the tip of Lake Annecy and lures travellers with its criss-cross of canals and bridges, which has earned it the nickname, "Venice of the Alps". Wander around and you'll also find landmarks like Château d'Annecy and Palais de I'Île,as well as cafés and Michelin-rated restaurants that have elevated alpine cuisine.
Not just pretty to look at, the town's Lake Annecy is a recreational paradise. You can sail on it, swim in it, drive around it, or paraglide over it. Biking around it takes around two hours. Alternatively, simply enjoy its stunning views and changing rhythm of the sunsets, sunrises and natural reflections. Thanks to protective measures taken over the last 50 years, the lake is now the purest of all urban lakes in Europe. It is also the third-largest lake in France.
Walking tours of Annecy old town provide an in-depth history of this French medieval town. The Château d'Annecy is a restored castle and now a museum. Situated at the top of a hill, it is well worth the walk for the views. From the Gothic Cathedral of Saint Pierre to modern structures, there are a number of churches with some dating back to the Middle Ages. Église Saint-Maurice is the oldest church here. The old prison built in the 12th century is unlocked and now a key attraction sitting in the middle of the Thiou Canal. At the end of the 16th century the Palais de l'Île served as a court house and a prison. Today it houses the Architecture and Heritage Interpretation Centre.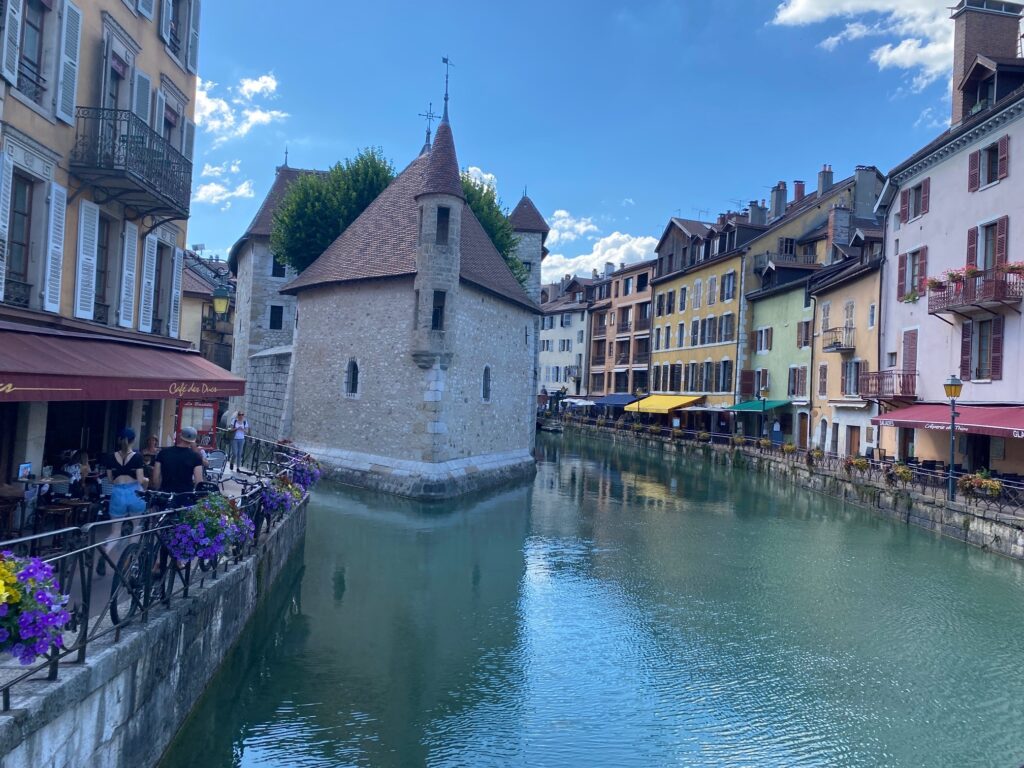 Annecy is called the Venice of the Alps for its numerous canals and bridges
Where to Stay?
Wrapping around the lake are carpets of green landscapes, wooden houses dotted on the hill slopes, and church spires piercing impossibly blue skies. Within the storybook setting, accommodation is as varied as the topography with myriad choices including hidden chalets, farm stays edging the forest, camping, glamping and B&Bs.
Les Ô d'Annecy proved to be a delight with homemade preserves and breads, a real country breakfast served on the edge of a garden, where spectacular views of the lake and the 1867 country house accompanied by meal. A massage room is housed in a shepherd's hut while visiting deers roam the grounds packed with pine trees.
Hotel La Ferme is located in the middle of the slope, overlooking the village of La Clusaz. This hotel-restaurant offers traditional cuisine served in a cosy candlelit dining area or on its surrounding terraces which savour views of the ski lifts traversing the Aravis mountain range. Sitting on the shores of Lake Annecy, Villa Caroline is the first dedicated wellness hotel and often doubles as an ideal yoga retreat.  It offers 18 rooms, a detox menu, choice of massages tailored to requirements and fitness room. 
Fresh mountain air and cool fresh rivers are the perfect conditions for Tuomo Yoga, an ancient art practiced by Tibetan Buddhist monks. This form of yoga helps to strengthen our immunity, resistance to cold and overcome our fears. It is also a method used to overcome negativity and obstacles in our life. The process starts with walking barefoot on stony pathways and then rehearsing breathing techniques, mantras and visualization to prepare for voluntary submersion in cold water. It certainly calls on will-power to relight an inner fire and mental control.
Relaxing hotels and retreats surround the lake
A preserved area on the shoreline of Lake Annecy is the Bout du Lac nature reserve. This reserve is a wetland area crossed by two rivers, which feed Lake Annecy. Reed beds, wet forests, meadows and alkaline peat bogs make up this ecosystem, offering a sanctuary for rare animals and plant species. Mindful walks are encouraged with regular signs to remind walkers to listen to nature. Other activities in the area include paddle yoga and cycling, made popular thanks to the the Tour de France which, since 1939, has made 16 stops in the area.
As you journey up into the mountains, villages include Thônes, a half-way point between Annecy and the ski resorts. The villages of St Jean De Sixt, La Clusaz, Le Grand Bornand and Manigod are not just scenic but also provide a look at life in the alps.
Cow Art & Other Amusements
is alive and well around the village resort of Le Grand Bornand  and you can see it everywhere, like an outdoor art gallery. Adding fun and colour, a cow art walking tour is mooo-ving, and shows off bovine works of art in many forms around town. Why cows? In the year 2000, Le Grand-Bornand had 2000 residents, 2000 cows, pastures at a nearly 2000 metre altitude.  It's a tribute to the old forgotten trades of the valleys. The village also sits in a cheese-making region. Reblochon cheese is made in the area.
Cow art in Grand Bornand
Soap workshops provide an insight into sustainable medicinal plant production in this mountain area. Laetitia Hespel trained at the French Institute for Herbalism. She hand-picks her own homegrown organic plants or those she finds growing wild then dries them at a low temperature to conserve their qualities. The botanical herb garden sits at an altitude of 800-metres, where she grows around thirty different varieties These are sold to laboratories or herbalists such as Clarins.
Dishes are often served decorated with edible flowers. In Buvette de Paccaly, proprietor and mountain guide Astrid Marty is a specialist in edible plants and flowers. She picks them locally at different altitudes to ensure she has a good variety. They include campanula, wild thyme, willow herb, clover, wild oregano and nasturtium. She prepares and scatters them as toppings on dishes to add taste, colour and additional nutrition to the menu at Chalet de Paccaly in La Clusaz.
Lake Annecy is an outdoor recreation playground
From edible flowers to liqueurs, Distillerie des Aravis specialises in making artisan herbal liqueurs using local products such as Génépi. These are based on a recipe used by monks dating back to 1878, which included 27 plants that promised treatment of headache, stomach, and mood.
Annecy Mountains is rich in natural resources, a destination offering a breath of fresh air and a lot more.
***
BeSeeingYou In: Annecy, France
Good to know: Annecy is a 45-minute drive from Geneva, Switzerland
WOW! Factor: Annecy's Pont des Amours (Lovers' Bridge) joins the Jardins de l'Europe and Pâquier Esplanade – two open gardens on the shores of the lake
Tip: Dine on raclette when visiting the region