Think of Seychelles and immediately idyllic images of turquoise water, blue skies, powdery sand beaches, lush tropical vegetation, and seas full of colourful fish come to mind.  This dreamy place just north of Madagascar is actually an archipelago made up of 115 islands in the western Indian Ocean and is home to some of the most beautiful scenery on earth.
So just how can you make the most of a visit? Island hop with Variety Cruises. Their 7, 4, and 3-night cruises go from island to island, bringing a new slice of Seychelles paradise to your doorstep, or gangway, every day.
Paradise on Earth
The Seychelles really lives up to their reputation and the images that float in our collective dreams about the most idyllic places on earth. This collection of islands scattered across the Indian Ocean, some 1,600 kilometres east of Kenya, offer everything from white sandy beaches and impossibly clear water to UNESCO Heritage Sites and incredible wildlife.
This may be the reason why there were no human beings on the islands until the first European explorers discovered them in the 16th century. Today there are less than 100,000 inhabitants, a successful melting pot of European, African and Chinese people who speak Creole, English and French.
The Seychelles is an independent state member of both the Commonwealth and the Francophonie (French speaking communities).
The-MY-Pegasos sails island to island in theSeychelles
Make time to watch the sunsets. They don't disappoint
Itineraries
Classical or unusual, each itinerary proposes tailor-made shore excursions made to give you a real insight into local culture and nature, whether its BBQ breaks on deserted islands, giant tortoise spotting, diving into crystalline swimming stops, or taking a walking tour through the lush interiors.
Each cruise also is an opportunity to savor local food prepped on board by the chef. During our cruise in Seychelles, we were positively surprised by the good mood of the crew. We at first thought that this cheerfulness could just be commercial behavior but we soon found out that each member of the international crew was genuinely kind and caring. They kept telling us that they feel like a family, the Variety Cruises family, and guests are welcome to be part of it.
The 8-day cruise  takes you to the six must-see islands of Seychelles: Mahe, Praslin, Curieuse, Cousin, La Digue, and Moyenne.
These islands are part of the Inner Islands group located in the northern part of the archipelago. The Inner Islands are mostly granitic and only two of them are coralline. So don't expect to see tropical flat islands surrounded by a lagoon and a coral ring. Here the islands look like the peak of tall mountains emerging from the ocean. They are covered with lush green vegetation only broken by tempting sandy beaches that most of the time can only be reached by boat.
Beach landing is a part of the experience too, and beware, landings can be with dry or wet. And the high-speed dry landing at Cousin Island is not to be missed, trust us!
Join the Club
Once you've completed your first cruise you automatically join the Variety Club and the Variety Cruises' Loyalty Program. This program gives you the opportunity to enjoy exclusive benefits and rewards as soon as you book your next Variety cruise, including a 5 percent savings on your 2nd to 4th voyages, a 10 percent saving on your 5th through 9th voyages, and  50 percent on your 10th.
Seychelles-are-lost-in-the-middle-of-nowhere
Other perks include cabin category upgrades, referral rewards, monthly E-News, including Club exclusive offers. On your next cruise you will have onboard credits, complimentary WIFI, and shore excursions. There are also club competitions. For example, the company organizes an annual photo competition. To participate you just have to send them the best shots of your cruise. The lucky winner will win a complimentary cruise for two and 3 runner-ups will get €200 shipboard credit to spend on their next cruise. Welcome to the Variety Cruises big family!
The-Pegasos-zodiac-use-to-land-on-any-remote-island
High-speed-dry-landing-on-Cousin-Island
The Ship
You will be cruising onboard the MY -Motor Yacht- Pegasos. Thanks to the Seychelles' mild climate she can sail all year round and you can enjoy a summer or winter cruise at your convenience. Pegasos is a 148-foot long  vessel, making her a small cruising boat that allows her to go to places where bigger ships can't.
Pegasos dining room
Meals are served whether in the outdoor or the inner dining areas and it really feels like a rare privilege to have dinner under the stars before the party on the upper deck until late at night.
The cruise is on a full board basis and you will enjoy delicious cuisine made with local products picked on the different islands visited on the way. Once again service is fast, efficient, and always with a smile.
Relax on the sundeck for island views
The shop has 21 ocean-view cabins and can welcome at most 44 guests. Cabins also have air conditioning, flat-screen TVs, mini-fridges, and safes.
You will enjoy a vast indoor lounge area with comfortable deep sofas and a bar, where Dennis is in charge, always ready to fix you a drink with a smile and a joke.
There is also an outdoor lounge and bar on the upper deck with a stunning 360° view.
Colourful-farmers-market-in-Mahe
Island Hopping
The cruise starts in Port Victoria on Mahe Island. After a welcome cocktail and the mandatory safety drill, Pegasos sails to St Anne Island where you can enjoy a refreshing swim from the lower deck of the boat. The following morning a short sail takes you to Curieuse.
Giant-turtle-in-Curieuse-Island
Curieuse is a small island home and sanctuary of the iconic giant tortoises of the Seychelles. These peaceful animals that can live for centuries are not afraid of men and you will be able to feed and stroke them. They are very sensitive beings and are able to feel a stroke even on their thick shell that is richly innervated. This is the reason why you should never try to seat on a tortoise it can really hurt them.
The excursion continues on a path going through a vast mangrove forest sheltering rich wildlife. Back on the beach, you will enjoy a big BBQ lunch prepped by the Pegasos' crew before swimming, snorkeling, or paddling in the warm waters of Curieuse Island.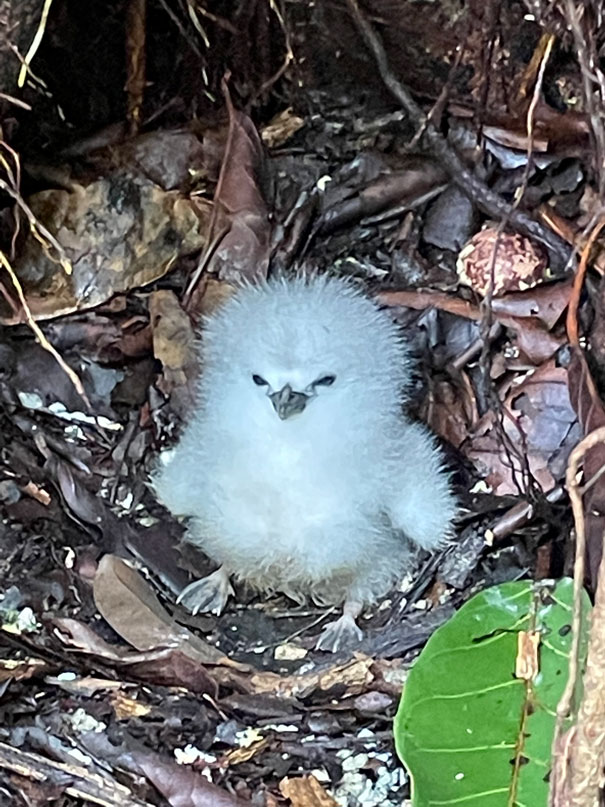 On-Cousin-baby-birds-can-live-on-the-ground-without-any-danger
The next day was my favorite.Cousin Island is a bird sanctuary in the care of BirdLife International. Seychelles is one of the world's leading countries protecting threatened species.This is a success story in Cousin Island, where a quarter million birds breed and where tortoises go to lay their eggs. There are no predators on the island and birds are absolutely not afraid of men. You will be able to get very close to them, to their nests, and to cute baby birds.
The- famous Anse Lazio on Praslin
In the afternoon we sailed to Praslin Island, directly to Anze Lazio.This iconic beach is said to be the most beautiful  in Seychelles, if not the world.
Beach-fruits-bar-at-Anse-Georgette
On the following morning, you will enjoy relaxing moments at Anse Georgette. This is the perfect paradise beach you've been dreaming of with the ocean taking different shades of blue, the pristine white sand, and the tall palm trees striking a pose just for you to take pictures.
In the afternoon Pegasos sails to St Pierre, a tiny islet that has an incredibly rich underwater life. It's time to go snorkeling and swimming to discover this unique colorful show. Maybe you will see a few small sharks!
Coco fesse, or-Coco-de-mer, is the world's largest nut
On the next day, it will be time to discover the emblematic coco-de-mer, also known as coco-fesse, the famous coconut that grows only on a few islands in Seychelles.
In Praslin they grow in the Vallée de Mai Reserve. You will make a guided tour of this World Heritage Site in the shade of different kinds of tall palm trees and if you are lucky you will also get a glimpse of the rare black parrot that lives only in Praslin. Before getting back onboard you will enjoy a refreshing swim on the beautiful Cote d'Or beach.
Anse-Source-dArgent is a famous beach on La Digue Island
The next day is dedicated to the local coconut oil and vanilla production on La Digue Island. They are made at the Union Estate set in a typical colonial plantation house and you will discover all the making processes of these deliciously smelling products. Then it will be time for a picnic on the magnificent Anse Source d'Argent beach and its picturesque pink granite big rocks.
Anse Lazio
On the last day of the cruise, you will discover Moyenne Island. This island was made famous by its last owner Brendon Grimshaw who bought it in 1962 for £8,000. Over the next 20 years, he totally transformed and brought back to life Moyenne. With the help of only one local man he planted 16,000 trees of many different species, cleared 3 miles of nature paths, and reintroduced Aldabra giant tortoises. He thus created his own Eden which is today a National Park. Sadly, it's the last time for swimming or snorkeling. In the afternoon Pegasos will sail back to Port Victoria and it will be time for the Captain's Farewell Dinner and the last party onboard.
Time-to-buy-some-nice-local-souvenirs
We have to be thankful to the Seychelles Island Nation and its inhabitants for aspiring to preserve of the unique local wildlife. They were able to do it with limited resources but with a strong will. This amazing odyssey created by Variety Cruises allows the guests to discover this preserved nature. If only days could count 48 hours  in them to make our pleasure a little bit longer!
White sandy beaches and turquoise water live up to your wildest dreams
Variety Cruises ships are small, making it easy to tuck into places larger ships can't
Who is Variety Cruises?
Variety Cruises is a Greek company founded in 1949 by Diogenis Venetopoulos, and has remained in the same family ever since. Today, its grandson Filipos at the helm of the decade's old family business and human-sized company that invites travellers on board its eight small ships and three private yachts.Though the size of the fleet might seem small, Variety Cruises knows how to meet the needs of demanding guests on cruises that set sail from five continents and 130 different ports of call, including in Greece, Costa Rica, Panama, Egypt, Israel, Jordan, Spain, Portugal, Tahiti, Seychelles, Cape Verde, and West Africa.
***
BeSeeingYou In: Seychelles
Good to Know: Most of the Seychelles 115 islands are uninhabited with 90 percent of the population living on Mahe Island. The next two most populated islands are Praslin and La Digue.
WOW! Factor: For over 100 years, from 1829 to 1965, Curieuse Island functioned as a leper colony
Tip: There are juice/ fruit stands throughout the islands (especially on La Digue) and it's a great way to cool down and support small businesses.
Author bio: Annick Dournes & Frederic de Poligny