By Jane Wilson
I carefully tied delicate and revived pieces of coral onto a frame. I was kneeling next to the Marine Biologist who dedicates her time to protecting the reef around Perfect Siyam World Maldives.
"Our sea life is fragile", I heard her say, "Climate change is threatening our precious coral". Heartfelt words.
Sustainability
Leaving a lasting memory is educational as well as adding an indelible contribution to the islands. Siyam World in The Maldives has acted to restore the coral by employing its own marine biologist who works with a team to clean and replant the coral as well as protect the reef around the resort.
Here guests are encouraged to get involved. The marine biologist arranges activities to demonstrate and explain the causes of coral destruction and ways to save and protect it.
Under her guidance, cleaned pieces of coral are delicately attached to a frame and then placed on the seabed which is constantly monitored. A named plaque is attached to the frame and submerged in the Indian Ocean.
Siyam World offers a new vision in resort experiences and is one of the largest islands in The Maldives. It has the biggest floating water park in the Indian Ocean so it's packed with energy and adrenalin, a unique formula in a destination renowned for its laid-back slow pace.
And yet, it also exudes beauty and peace for those seeking a different pace with lush greenery and hidden pathways to varying accommodation styles.
Veyo Spa
In keeping with its natural setting, the spa has a resident naturopathic doctor. "Guests are on holiday so imposing a diet would affect their total enjoyment.
Instead, we focus on offering healing practices to include Chinese therapies." Treatments centre on natural healing and a focus on meridian channels with combination treatments such as acupuncture, dry cupping, moxibustion and therapeutic yoga.
With 13 therapists and 18 rooms, the spa offers an extensive list of treatments, individual and group classes from colour therapy, laughing and family yoga, transcendental meditation and private reiki.
There are mindfulness programmes, sunset meditations and combination yoga and detox packages. A music walkway encourages a positive attitude. Cobbled paths provide grounding for power walks and hidden archways for meditation and privacy. Rich foliage creates a healthy oxygenated environment.
The Maldivian Healing Treatment was inspired by Maldivian healers, a traditional healing body massage of long circular strokes with virgin coconut oil followed by a warm sand poultice.
Others include traditional healing methods from sujok therapy to hijama dry cupping therapy. Veya Beys Signature treatment is a full body massage, using traditional Maldivian medicinal oil to alleviate muscular pain and tension, foot reflexology & stone massage, ending with the healing sounds of singing bowls to heal and restore.
Marwari Horses
And if choosing another mindful activity, Siyam World has its own horse ranch with a number of thoroughbred Marwari horses and offers riding lessons. What a wondrous sight witnessing the white Marwari thoroughbred mare galloping along the beach, a sand spray at its heels as the sun rises.
Siyam Water World's blue lagoon picks up the tempo with a long menu of adventures – kayaking, flyboarding, parasailing, electric jet surfing, the list goes on.
Jungali in the heart of this island's tropical forest has a swim-up bar and is one of six bars as well as eight restaurants, with more planned. And for the wine connoisseur, the stunning underground wine cellar has over 5000 labels with an intimate tasting room.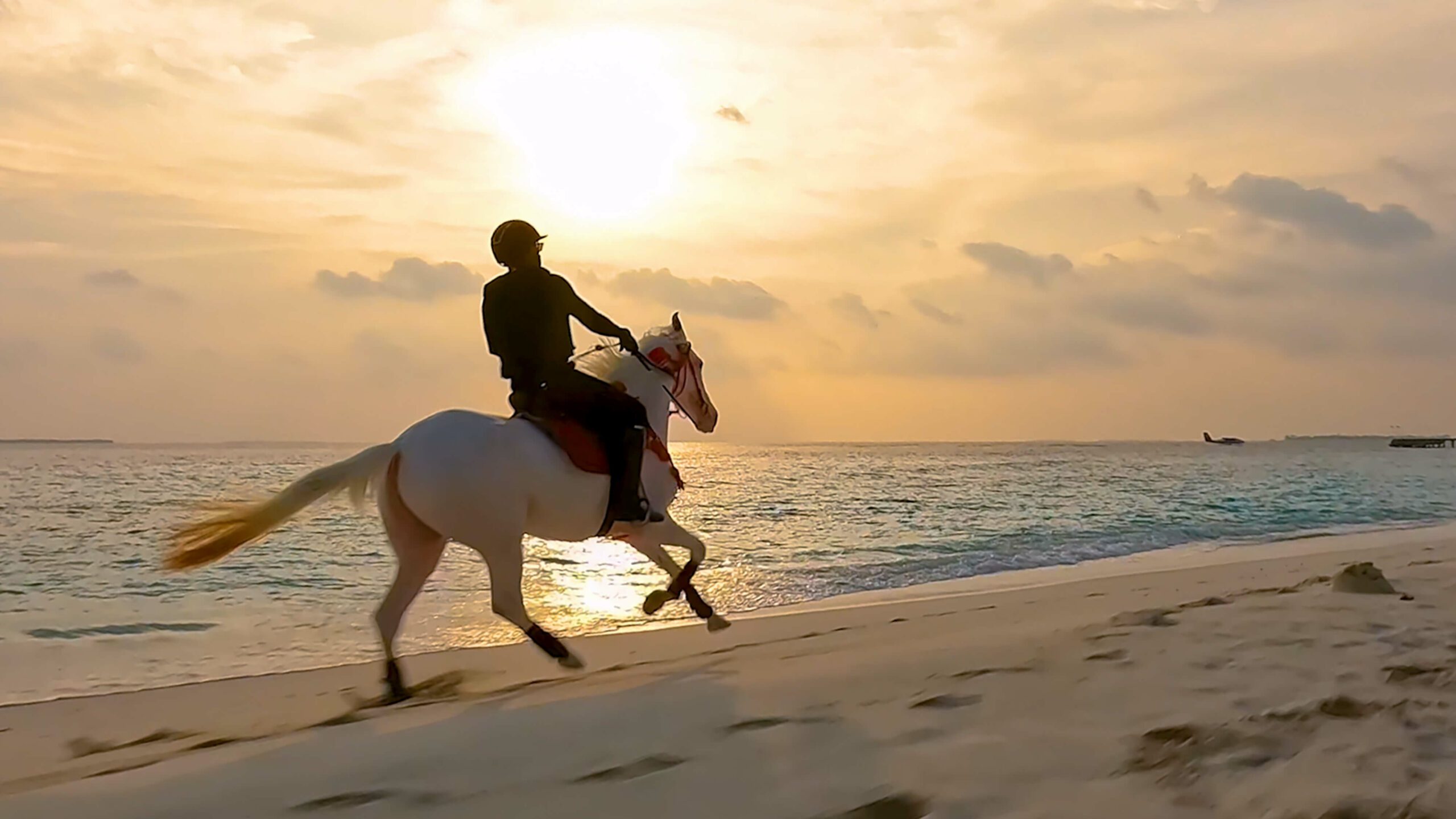 Accommodation
In total there are 18 accommodation categories. The new, exclusive Beach House Collection boasts two-storey, contemporary residences, stylishly and spaciously designed with apex ceilings, willowy drapes and signature touches. These are located on the quieter side of the island, steps away from the deserted beach.
And for Beach Collection guests, have the fun of the Mini Moke transport and a 24/7 butler service. Appealing to multi-generational families, small groups and couples, there are a variety of accommodation categories, from one to six-bedroom villas, all enjoying access and views to the sea, terraces, some with private pools and even a kid's room. The resort has considerately created a natural segregation for family villas and activities.
Travelling to the Maldives is just as exciting as the fun when you get there. It's all very James Bond with speed boats between the islands and seaplanes over the atolls with views that will take your breath away.
But the sea is fragile, delicate and vital for sea life and the ecosystem. Such initiatives by Siyam World to protect the reef are commendable in offering experiences for guests to be part of the process, a way to give something back for the memories they experience and take away. And helping the planet is yet another way to rejuvenate mind and soul in addition to those deserted beaches, blue skies and turquoise waters.
Visit Sun Siyam Resorts: https://www.sunsiyam.com

Sun Siyam Resorts and www.thewellnesstraveller.co.uk
Dhigurah, Noonu Atoll, Maadhoo Noonu, 20066, Maldives