Kneeling next to a marine biologist who dedicates her time to protecting the reef around Siyam World Maldives.I carefully tied delicate and revived pieces of coral onto a frame.
"Our sea life is fragile", she said, "Climate change is threatening our precious coral".
These words stuck with me and are at the heart of a stay at this Indian Ocean paradise.
Sustainability
The Sun Siyam Cares programme prioritizes sustainability through initiatives and authentic guest experiences such as reducing energy and water use, managing waste, reducing plastic use, supporting community development, and investing in renewable energy all in an effort to minimize their environmental impact and contribute to the socio-economic well-being of the communities in which they operate. This is the heart of the guest experience at Siyam World Maldives, including mine.
Siyam World Maldives's marine biologist and team, I held a cleaned piece of coral and delicately attached it to the frame, which was later placed on the seabed in the Indian Ocean with a named plaque attached.
Veyo Spa
Nestled in a tropical setting  the resort's Veyo Spa has a resident naturopathic doctor. "Guests are on holiday so imposing a diet would affect their total enjoyment".
Instead, the spa offers healing practices that include Chinese therapies that centre on natural healing and and meridian channels, including treatments such as acupuncture, dry cupping, moxibustion and therapeutic yoga.
With 13 therapists, 18 spacious treatment villas, relaxation areas, hydro facilities and Himeyn Bageecha a self-service healthy bar., the Veyo Spa feels like.a luxury destination within this luxury destination hotel.  There are also individual and group classes from colour and laughing therapy, to amily yoga, transcendental meditation and private reiki.
Check out their mindfulness programmes such as sunset meditations, Zumbini classes for kids and teens,  detox packages and more. The Maldivian Healing Treatment was inspired by Maldivian healers, a traditional healing body massage of long circular strokes with virgin coconut oil followed by a warm sand poultice. Others include traditional healing methods from sujok therapy to hijama dry cupping therapy. Veya Beys Signature treatment is a full body massage, using traditional Maldivian medicinal oil to alleviate muscular pain and tension, foot reflexology & stone massage, ending with the healing sounds of singing bowls to heal and restore.
The list of ways to indulge your mind, body and soul is endless.
Marwari Horses + Other Activities
For something different in your mindfulness realm, Siyam World Maldives.has its own horse ranch with a number of thoroughbred Marwari horses and offers riding lessons. What a wondrous sight to see these white Marwari thoroughbreds galloping along the sandy beach, as the sun rises over the Indian Ocean.
Siyam World Maldives invites you to unleash your inner water child at its floating water park, the biggest floating water park in the Indian Ocean,  or explore the blue lagoon by parasailing, electric jet surfing, kayaking and more.
Jungali in the heart of this island's tropical forest has a swim-up bar and is one of six bars as well as eight restaurants, with more planned. For the wine connoisseur, the stunning underground wine cellar has more than 5000 labels with an intimate tasting room.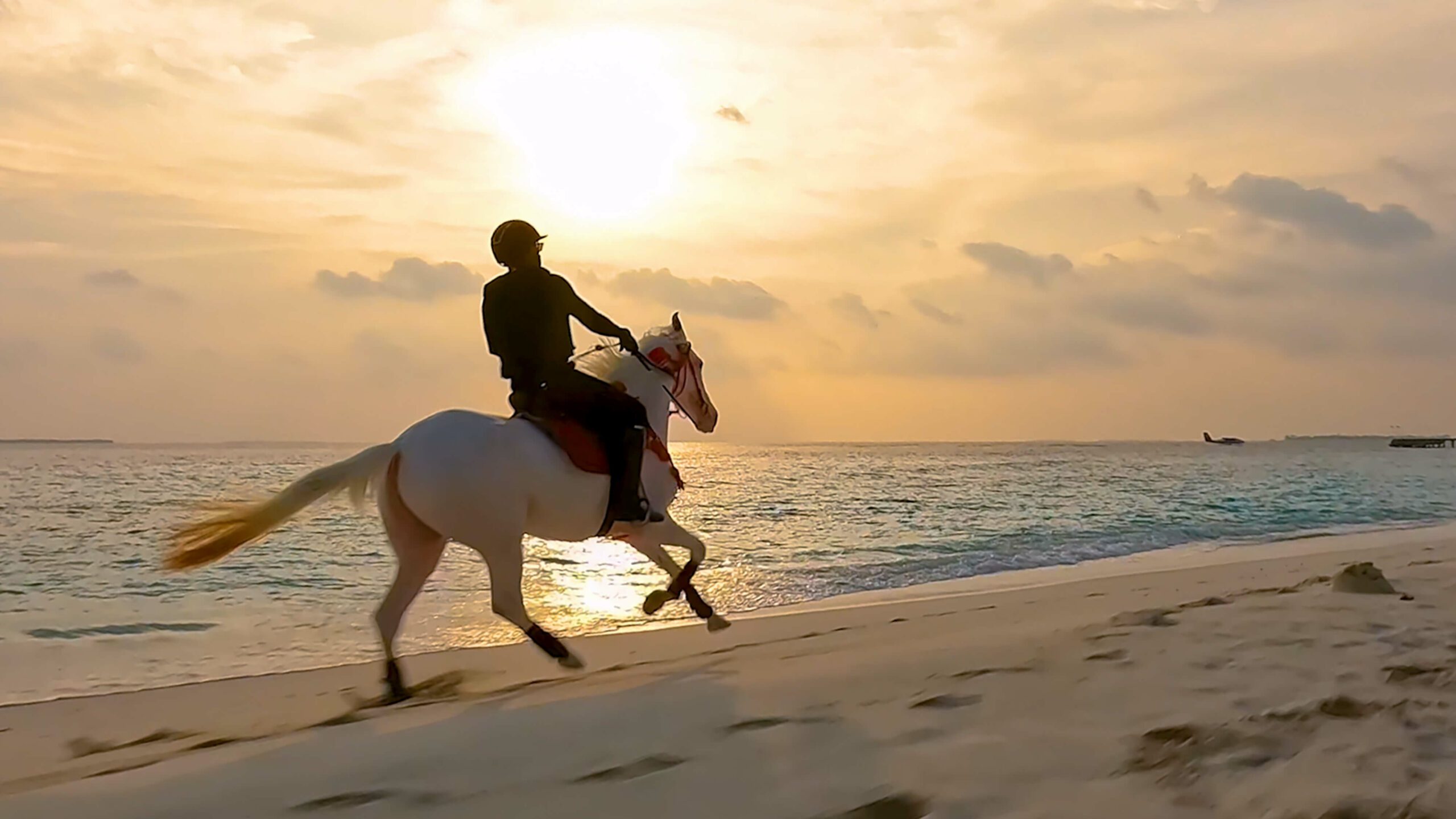 Riding on the beach is just one of many unforgettable experiences at Sun Siyam Maldives
Accommodation
In total there are 18 accommodation categories. The new, exclusive Beach House Collection boasts two-storey, contemporary residences, stylishly and spaciously designed with apex ceilings, willowy drapes and signature touches. These are located on the quieter side of the island, steps away from the deserted beach.
Beach House Collection guests have the fun of the Mini Moke transport and a 24/7 butler service.
Appealing to multi-generational families, small groups and couples are a variety of one to six-bedroom villas, some with private pools, including the ultimate private Maldivian abode called The Palace, with six bedrooms and two pools, one in the main bedroom and a massive private pool in the courtyard.
                                                                                                                      With 18 types of accommodations, there is something perfect for you at Siyam World Maldives
***
BeSeeingYou In: The Maldives
Good to know: Climate change isn't the only thing damaging coral. Overfishing, tourism activities such as diving, and poor waste management systems are also harming delicate reef systems.
WOW! Factor: The coral reef systems of the Maldives are the seventh largest in the world and cover an area approximately 8,900 square kilometres.
Tip: Learn how you can help save and protect coral reefs here.