By Annick Dournes & Frederic de Poligny
"Experience the Ultimate Mediterranean Getaway at St Nicolas Bay Resort, Where the Sunshine Never Fades"
At St Nicolas Bay Resort
Weather conditions will soon be ideal to visit Crete Island in Greece and enjoy its Mediterranean natural beauty, sandy beaches, rich heritage and delicious cuisine, the famous Cretan diet. Located on the north-eastern shore of the island the St. Nicolas Bay Resort is like a small Cretan village where guests can fully experience philoxenia, the matchless Greek hospitality.
The St. Nicolas Bay Resort stretches on a small hill overlooking the strikingly beautiful Mirabello Bay a few miles away from Agios Nikolaos, one of Crete most popular seaside resorts. It will take you about an hour drive on a good and picturesque coastal road to get there from Heraklion international airport. The hotel has deliberately been designed and built like a small typical seaside village with its chapel, market place, small cobbled streets lined with white low buildings, sandy private beach, pools, lush gardens and olive trees. Far from "standard" luxury hotels the St. Nicolas Bay invites you at once to experience an authentic Greek spirit.
The-main-swimming-pool
Top Aange Accommodation
As can be expected in a "Small Luxury Hotel of the World" all rooms, suites and villas offer stylish and refined spaces for couples and families. The whole hotel has just been through a three-year period of renovations and you will enjoy newly and completely refurbished accommodation filled with the invigorating Cretan light. The old and the new blend nicely together as the original local architecture has been given a modern twist. White walls, wooden floors, hints of colour, oak finishes or marble details, contemporary paintings and pieces of art create a chic decor for demanding guests.
Sea-wiew-suites-with-private-swimming-pool-and-garden
There is a wide range of rooms and suites all with sea view, the "smallest" ones being 29 sq metres (312 sq ft). But most rooms are larger (from 35 to over 100 sq metres – 380 to over 1,000 sq ft) with plenty of "plus" such as heated jacuzzi on the terrace, sitting corner, dining table, large private pool, one, two or three bedrooms. Need to feel special? Choose a "Club" suite where you will also enjoy included premium brand drinks, daily snacks and personalized gifts in your room upon arrival.
A-Thalassa-Villa-with-its-private-pool
If you are looking for excellence and privacy opt for one of the "Thalassa Villas" offering exclusive facilities and services. With three or four bedrooms they are ideal for families or friends. They all have a private direct access to the sea, a big swimming pool with hydromassage jets, a vast sun desk with outdoor dinner facilities, living room and a fully equipped kitchen where you can cook your own meal or have a chef make a special diner just for you. The hotel can also arrange a party just for your family and friends if you want to celebrate a special event or just for fun. The villas are a unique way to enjoy all the luxury facilities of the St. Nicolas Bay Resort while staying in your own private "home".
Refreshing-fresh-fruits-salad-with-Greek-yoghourt-and-honey
Exquisite cuisine at St. Nicholas Resort
Your day will begin with a tempting breakfast buffet served on the outdoor terrace shaded by olive trees of the "Club House". Enjoying the view over the main pool and the Mirabello Bay in the distance you will have a hearty breakfast made with fresh local products, hot and cold specialities, freshly baked breads and pastries, detox, gluten free and vegetarian dishes…
Greek-style-kebab-at-Blue-Bay-restaurant
The "Blue Bay" restaurant is perfect for a relaxed lunch. Located on a terrace overlooking the private beach and the bay, the Blue Bay proposes tasty Mediterranean and Asian dishes always nicely arranged. From a classic Greek salad to crispy tempura shrimps, from pizza to fresh salmon Teriyaki or grilled lobster, every dish is perfectly done and generously served.
Golden-fried-calamari
The "Greek Kafenion" proposes traditional Cretan cuisine from the outdoor BBQ kitchen. Set next to the lovely white chapel with unique views over the Mirabello Bay it will give you the feeling of being in an authentic little fishermen port ideal to enjoy the catch of the day. Start your dinner with a blend of Cretan appetizers including the typical dakos, Myzithra cheese, dolmades, tzatziki, aubergine caviar, zucchini…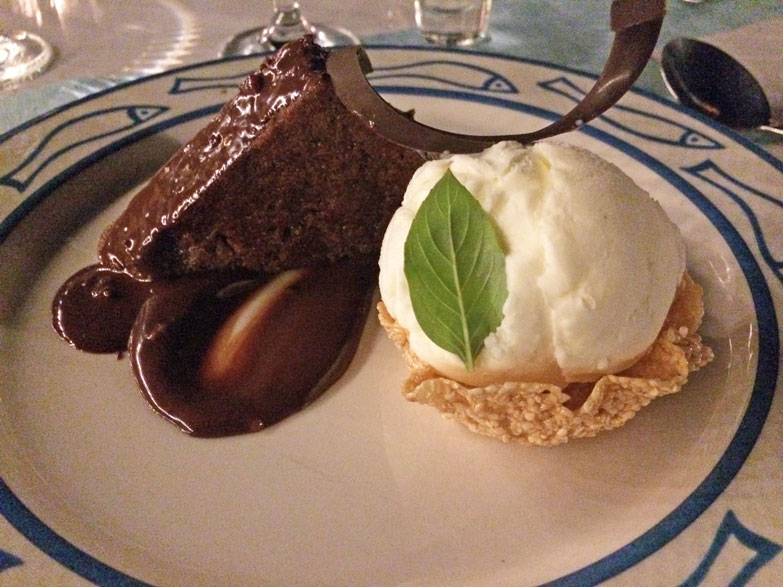 Temting-dessert-the-walnut-cake-and-kaimaki-ice-cream
Continue with a grilled grouper fish fillet or roasted lamb or Greek style kebab… Desserts are not to be missed especially the walnut cake with its hot chocolate sauce and kaimaki ice cream or the petimezopita grape molasses pie with pistachio… So yummy! Once each week a live music show is performed during dinner with typical Greek songs and dances.
Time-for-drinks-at-the-Minotaure-restaurant
The "Minotaure" is another option for a candlelight dinner with live music twice each week. The restaurant proposes an Asian style cuisine both tasty and beautifully presented. Each dish is a feast for the eye and for… the taste buds! Linguini with black truffle, lobster risotto, dim sum, teriyaki salmon, veal yakisoba, tandoori chicken, Peking duck… everything is delicious. The wine list is impressive with a choice from Cretan, Greek and international vineries. A real flawless dinner!
There are also several bars with different atmospheres at St. Nicolas Bay Resort to enjoy a sunset drink or socialize in a cosy atmosphere.
Asian-food-at-the-Minotaure
Explore Crete Island
The St. Nicolas Bay Resort is a very good starting point to visit the eastern part of the island. You can rent a car and make your own circuit or you can ask the hotel to arrange private excursions for you. They can take you to spectacular Spinalonga Island by motorboat, to Heraklion and its Minoan Palace, to the plateau of Lassithi and the Cave of Zeus, to a local winery, on a tour of southern and eastern Crete… or wherever you would like to go. But you may just as well decide to stay at the hotel to practice your favourite water sport, attend a yoga or fitness session or relax at the spa.
The-iconic-Villa-1-at-St-Nicolas-Bay-Resort
Our review of the hotel wouldn't be complete without mentioning the efficiency and kindness of all the staff. I guess every guest could name at least one member of the staff who was particularly helpful. During your stay you will most certainly meet Alex Glynos, the hotel head manager. He makes it a point of honour to meet every guest staying at the hotel and you will meet him every day saying hello and taking care of every detail to enhance your experience. Here hospitality is not an empty word!
More info and booking at www.stnicolasbay.gr
Text ©Annick Dournes
Photos: ©Frederic de Poligny or ©Annick Dournes
Private-outside-dining-room-and-huge-garden-of-Villa-1