"Experience the Unforgettable Mediterranean Getaway to St Nicolas Bay Resort in Crete"
Crete Island in Greece is a dream destination for many, thanks in part to its Mediterranean natural beauty, sunny skies, sandy beaches, and rich cultural heritage and sites. One of the best places to soak it all in is at the St Nicolas Bay Resort on the northeastern shore of the island, where guests can fully experience all the Crete has to offer along with a healthy dose of philoxenia, the matchless philosophy of Greek hospitality.
Location
Crete is the largest island in Greece, and the fifth largest one in the Mediterranean Sea.
The St Nicolas Bay Resort sprawls across a hillside overlooking beautiful Mirabello Bay, just a few miles away from Agios Nikolaos, one of Crete's most popular seaside towns. The captivating location on the sparkling blue sea, with a sun-kissed private beach, refreshing pools and luxury villas are only few of the highlights that will take your breath away.
It takes about an hour to drive from Heraklion international Airport along a picturesque coastal road, but once you arrive at St Nicolas Bay Resort, you'll feel as if you've stumbled into a quant Greek village, which is how the hotel  was designed—with a chapel, marketplace, petit cobbled streets lined with white low buildings and olive trees, restaurants and tavernas, pools, and lush gardens.
Anything but standard, St Nicolas Bay Resort is the Greek vacation you've been looking for.
The main pool overlooks the sea
About the Hotel
As can be expected when part of the  Small Luxury Hotel of the World family, all 135 rooms, suites and villas are stylish and refined, and designed for couples and families to enjoy the best of Greece.
The  hotel recently underwent a three-year renovation, filling the resort with updated touches accented with Greek character. The old and the new blend, and original architecture has been given a modern twist. Think white walls, wooden floors, hints of colour, oak finishes, marble details, and contemporary paintings and objets d'art that create a masterpiece of Greek chic common areas, rooms, suites and villas.
The sea view suites take advantage of the beautiful views
In a setting like this, the sea view rooms and suites are breathtaking, and all rooms are generously sized, with the smallest coming in at 29 square metres and larger rooms ranging between 35 to more than 100 square metres.
Grouped around the resort's pool is a cluster of two-bedroom suites, some with their own good-sized plunge pools, spacious mezzanine bedrooms with Santorini-style domed roofs, as well as large terraces or private courtyards for morning coffee.
For something extra, choose a Club Suite, which includes premium brand drinks, daily snacks and personalized gifts upon arrival.
A Thalassa Villa with private pool
The VIP experience is alive and well at the resort's Thalassa Villas, offering exclusive stays and services.
With three or four bedrooms, they're ideal for families or groups of friends, and have direct access to the sea as well as swimming pools with hydromassage jets,  vast sun decks with outdoor dining spaces, and fully equipped kitchens where private chefs can prepare exclusive dinners to be served under the stars.
Pool villas and some of the suites are ideal for families, and St Nicolas Bay Resort has a kids' club too.
Refreshing fresh fruit salad
Dining
They say breakfast is the most important meal of the day. If that's true, then you'll love the satiating breakfast buffet served on the outdoor terrace of the Club House, with views over the main pool and  Mirabello Bay. Choose from locally-sourced products, hot and cold specialities, freshly baked breads and pastries, detox drinks, gluten free and vegetarian dishes, and many other choices to fuel your daily adventure.
Greek-style kebab at Blue Bay
The Blue Bay restaurant is perfect for a relaxed lunch. Located on a terrace overlooking the private beach and the bay, the Blue Bay proposes tasty Mediterranean and Asian dishes. Think classic Greek salad, crispy tempura shrimp, pizza and salmon Teriyaki or grilled lobster. No matter what you choose, every dish is perfectly prepared and  served with a side of Greek philoxenia.
Casual snacks  and fine dining are available 
The Greek Kafenion is where traditional Cretan dishes and daily catch are prepared at the outdoor BBQ kitchen. Set next to the lovely white chapel with stunning views over the Mirabello Bay, the cafe gives the sense of dining in an authentic Greek fishing port. Start with some Cretan appetizers such as dakos, Myzithra cheese, dolmades, tzatziki, aubergine caviar, and zucchini, among other Greek delights.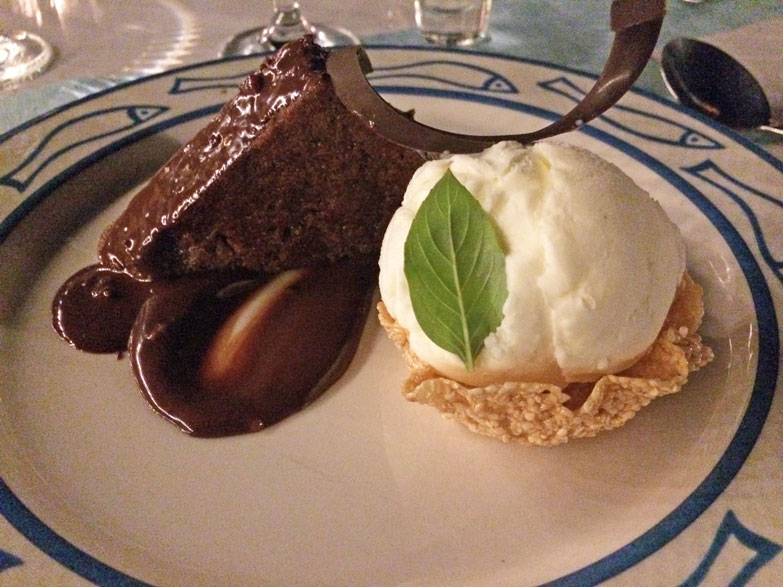 Don't skip dessert
This is not the time or place to skip dessert, especially the out-of-this-world walnut cake with its hot chocolate sauce and kaimaki ice cream. The petimezopita grape molasses pie with pistachio is a close runner up.
Once each week, a live music show takes place during dinner, featuring typical Greek song and dance.
Enjoy cocktails in the numerous bars and restaurants
Hopeless romantics might want to choose Minotaure, where they can dine by candlelight and listen to live music twice a week. The cuisine is Asian-style, and each dish is as beautiful as it is tasty.  Linguini with black truffle, lobster risotto, dim sum, teriyaki salmon, veal yakisoba, tandoori chicken, and Peking duck are among the highlights, and pair well with the impeccably curated wine list  of Cretan, Greek and international elixirs.
Minotaure creates food with Asian flair
Excursions Near & Far
The St Nicolas Bay Resort is a good jumping off point from which to explore. Rent a car for maximum flexibility, or ask the hotel's always-helpful staff to arrange private excursions. They can take you to spectacular Spinalonga Island by motorboat, to Heraklion and its Minoan Palace of Knossos, to the plateau of Lassithi and the Psychro Cave, or to hike in the stunning Samaria Gorge.
But staying at St Nicolas Bay Resort isn't so bad either and you'll find a host of fun and pampering activities such as water sports, yoga and fitness classes, and a relaxing spa.
Villa with pool
The People
Our review of the hotel wouldn't be complete without mentioning the efficiency and kindness of all the staff. During your stay you will be greeted with a hind hello and and a desire to take care of every detail to enhance your experience.
The Greek word philoxenia, which literally translates to "friend to a stranger", is widely synonymous with hospitality. At St Nicolas Bay Resort, the staff understand the concept and go out of their way to turn strangers into friends.
***
BeSeeing You In: Crete
Good to Know: The name Agios Nikolaos means Saint Nicholas
WOW! Factor:  Mirabello Bay is the largest bay of the Greek islands
Tip: St Nicolas Bay is conveniently situated on the way from Agios Nikolaos to Elounda, and close to many sites and attractions
Author bio:  Annick Dournes 
Photos: ©Frederic de Poligny and ©Annick Dournes
Private outside dining- and large pool of a villa