Table of Contents
"Unveiling the Magic of Blind Dining: Explore a Blind Tasting Experience at Noir Saigon"
Saigon's rich cuisine culture is vastly known around Asia however when it comes to fine dining experiences, nothing excites the senses and triggers the palette quite like Noir Saigon.
We had heard stories about eating exquisite cuisines and been told about an extraordinary dining experience that originated in Switzerland, Europe, but one could only begin to imagine the culinary delight that would soon unfold. Exclusive to only 20 countries around the world, we knew we would have our mouths full in what was to become a night of "eye opening" gastronomy antics.
As this was an occasion we had planned and heard so much about, we decided to grab a cocktail or two on the way to settle the nerves before the daunting experience of being in a dark room surrounded by strangers who for all we knew, could be just an arms length away. Approaching the restaurant in a taxi with the Saigon heavens storming down, we were greeted by a small Vietnamese man holding a giant umbrella, dressed in what could be described as a lustrous police outfit, the sort of thing you would see in Paddington station, London. He politely greeted us and escorted us through the rain to a beautifully lit up white wall with a small door on the left hand side.
Noir's Reception and Entrance in Day Time
Enter Noir Dining in the Dark…
The Venue
As you enter the restaurant you are welcomed by an abundance of vintage artwork that is littered across the room with a beautifully lit branch chandelier that stretches vastly across the centre of the room. The room is full of different colour walls and is accompanied by a very large bouquet of flowers that give you a warm sense of comfort and prestige all at the same time. On your right you have a luxurious lounge area for guests to sit and mingle whilst on your left there is an old but elegant looking staircase that leads you upstairs to the new Blanc, Dining in the Light. After a short waiting period, it was finally our turn to find out what all the fuss was about.
We were seated at a small round table and given an eye mask and a set of what can only be described as a children's fill in the blocks game. It was a board filled with 9 shapes in which you had to fit all 9 shapes into their respective slots…. Blindfolded. It was a very unusual yet somewhat satisfying experience trying to put a shape in a hole in what can be considered one of Saigons most elegant culinary experiences. Little did we know this would be the essential prep work for what was to come next. Finally after completing the game with the help of the floor manager, we were introduced to our blind waiter, Ms Ha, who would be our waitress and caretaker for the evening.
Noir's Shape Sorter Game
Ms Ha instructed us, one at a time, to put our hands on each other's shoulders and follow her into a room full of darkness. As you enter the room and your vision is completely eliminated, you are guided through a series of twists and turns until your waitress guides you to your table and seats you one by one. As you sit down you can hear the soft voices of the other diners in the room but can only begin to imagine where they are seated as you only have your sense of hearing at this point. The room filled with an eerie sense of excitement, you can see why some people describe the experience as a never to forget dining experience.
Guidance to Noir's Dark Room
The Food
Noir offers a four course menu to its diners however we opted for just the three courses and the mystery wine that they distinctly pair with each of your dishes. First came out the entrees which was a board with 4 slots and 4 respective bowls placed in each slot. Now I could see why we had to play shape sorting in the lounge while all the other guests were having their laugh watching two adults struggle miserably to complete a 5 year old's challenge. Needless to say, all four of the dishes were astounding. Noir revokes the right to reveal exactly what they serve in each dish due to the concept of the experience, however I can disclose what I thought I was eating, and I was totally wrong!
The first four dishes in the entrees consisted of a clear broth bowl, a pine nut soup and two uniquely crafted salads. It is the most unusual feeling to eat food with only your senses of taste and smell. Some people opt to include touch but I'd rather not have my paws in my 40$ meal. Texture and taste made the flavour profiling a very difficult task as I thought I was eating a potato soup and a vegetable salad. Boy was I wrong. After about fifteen minutes of back and forth trying to figure out what our pallets were experiencing, our lively waitress took our entrees and we waited eagerly for the main dish while we knocked back our first glass of rose.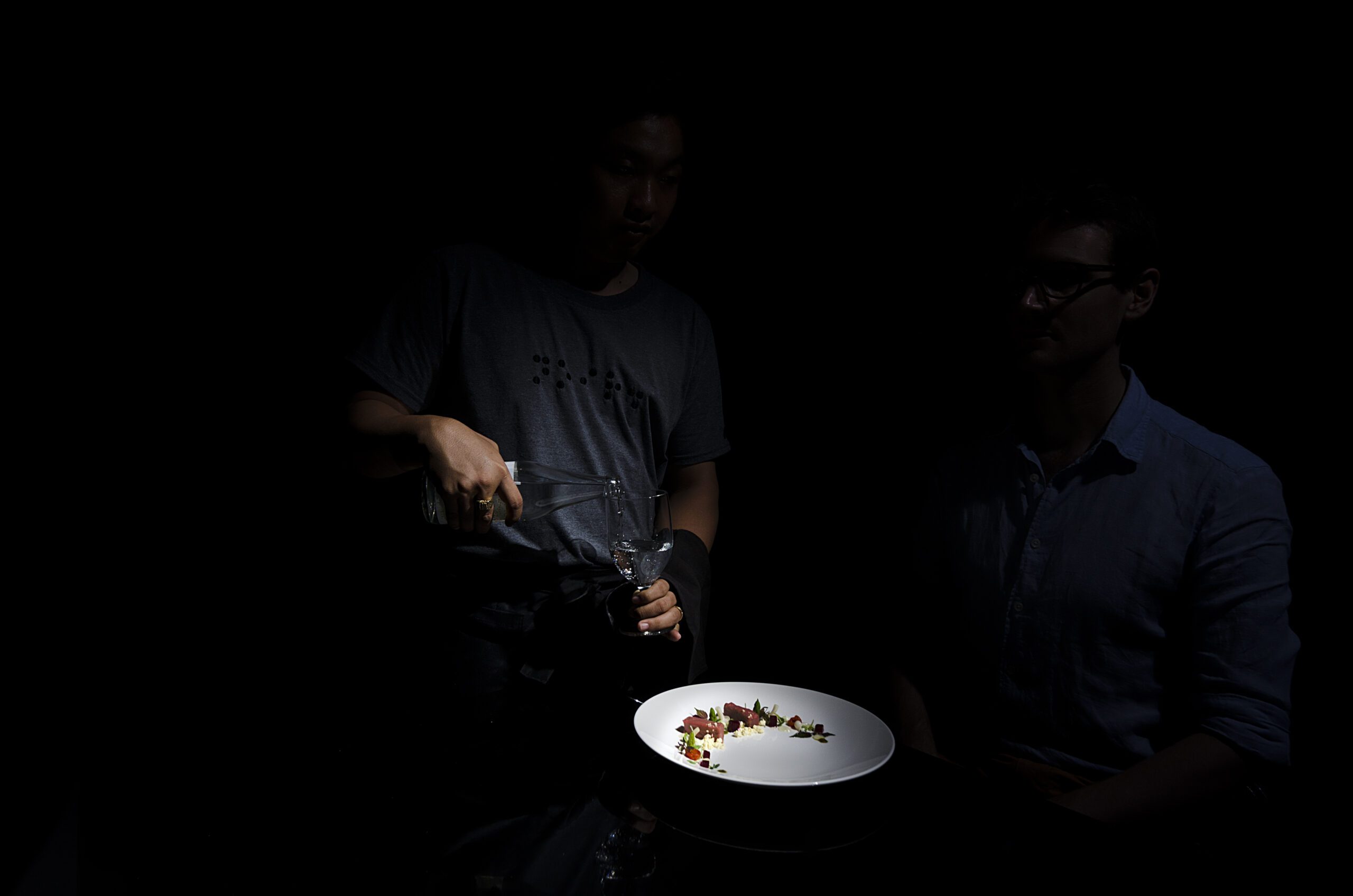 One of Noir's Culinary Delicacies
The experience of the second course was much like the first however you become more confident in the pitch black dining room and your ability to not spill down the front of your shirt helps to build confidence in your dining skills. Of the main course I only managed to guess two of the dishes correctly, the slow cooked pork on a bed of braised rice noodles and chicken wrapped rice rolls. My better half opted for the vegetarian menu and she managed to mistake her asparagus for broccoli. To her credit, not so far off considering not having any vision.
Finally we were served our desserts which seemed somewhat unfamiliar as this board was a different shape from the other two, so trying to navigate where to put my hands without knocking over any glasses was a challenge in itself. I was pleasantly met with two of my favourite sweet tooth delights, coffee ice cream and what I thought was a lemon mousse. On the vegetarian side, there was an interesting array of plant based alternatives and a very interesting jelly textured dish.
The conclusion of our dinner was a saddening experience as we had so much fun with an abundance of laughs throughout the evening trying to pinpoint who was eating what and which pallet made for a better masterchef. Ms Ha graciously guided us back out of the room and back into the lounge.
Noir Lounge in Day Time
Final Thoughts & Recommendations for Noir Saigon
Once you have completed this remarkable culinary adventure you are seated back in the lounge and educated by the floor manager on exactly what wonderfully compiled meals you were eating. The combination of flavours and the attention to detail is simply world class and the realisation of how far you were off from your initial guess makes for a very amusing conclusion to the evening. It is also worth noting that all servers here are impaired in some way and Noir offers them the opportunity to make a living for themselves. Overall this was a fascinating experience that I would recommend to anybody who has a stomach for adventurous food, fun and fulfilment. I will without a doubt be back for another incredible experience at Noir but this time for their Blanc Dining In The Light and the Noir Spa. Noir also hosts Wine tastings, Team building events and music in the dark!
Noir offer both a regular and vegetarian menu as well as a variety of different packages and menu options which can be found at Noir: Dining In The Dark
***
BeSeeingYou In: Ho Chi Minh City
Good to Know: If you are purchasing a mystery package, all wines are chosen for you and cannot be selected. You can buy gift vouchers for Noir here.
Getting there: Noir Dining in the dark is located in the heart of District one, just off of Điện Biên Phủ Street. It is best to get a Grab car or bike there.
TIP – Where to Stay: The luxurious Mai House Saigon Hotel is located near the hidden cul-de-sac of Noir and is walking distance from the restaurant.